Your Visibility in Google
Do you want to improve your rankings in Google?
A common approach to this problem is to run Google Ads. Or to have some SEO (Search Engine Optimisation) work done. But just doing one of these things is a bit like washing 1/4 of your car. That part will look nice and shiny – but what about the rest?
There are lots of ways Google can display results – do you have all of them covered?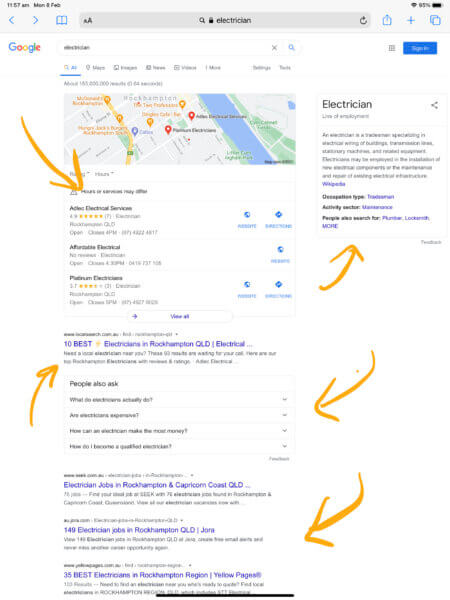 From ads at the top, to the local pack (the 3 results under the map), to a "People also ask" section, to the "knowledge graph" box that may appear on the side if you're on a laptop… And we haven't even mentioned the regular organic search results! These are just some of the possible things that your customers might click.
It makes sense to be visible in as many of those places as possible.
That's why, instead of just running ads, or just doing SEO, we offer a more holistic approach to your visibility in Google.
Each month, we'll be devoting attention to where we can get you the best return, be it a possible combination of:
The local pack (under the map)
Your Google MyBusiness page
Regular organic results
Google search ads
Maps
Featured snippets
Site links
Related questions
… you get the idea. Google has lots of potential ways to display results these days!
A simple pricing model
To keep things simple – our monthly fee is based on how many keywords are important to your business. Keep in mind that any spend on Google Ads (your click costs) is additional – Google will bill you for this separately. We can specify a budget though to keep it under control.
3 Keywords
$550 per month
10 Keywords
$825 per month
20 Keywords
$1235 per month
There are no lock-in contracts and you can stop whenever you need to. Be mindful that this is a medium to long term exercise though. Results will take time.