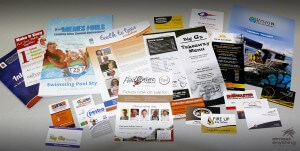 With all the talk these days about "digital media this" and "social networking that", you might think that the need for good old fashioned print would be in decline. Well we're happy to assure you: print is very much alive and well and living in Central Queensland!
The photo you see here is a small sample of the some of the items we have produced in the last couple of weeks including business staples like:
Capability statements
Corporate brochures
Business cards
DL cards
Promotional leaflets
Menus
So when "everything is online" these days – why are people still producing printed material? The answer is simple. To successfully promote your business you need to identify and use the correct channels for marketing which in some cases may come down to good ol' leaflet drops and direct marketing.
The secret to making print successful is to be smarter with how you use it.
The secret to making print successful is to be smarter with how you use it. Campaigns should have a consistent message and style – so where ever a potential customer engages with your marketing it delivers the same message and guides them towards your goals. The best marketing campaigns integrate print with other forms of marketing such as signage and, yes, website promotions and online advertising.
Personalised printing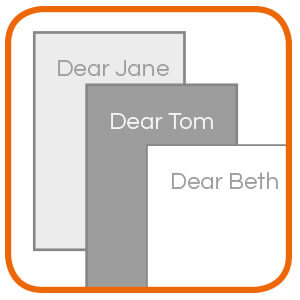 Take advantage of new technologies like variable data printing to personalise your print run to your customer base or even tailor direct marketing to the areas you promoting in. For example: a mailing with a maroon background will work in Queensland but if you are also targeting customers in New South Wales you may want to change the background colour to blue for those customers located in those regions.
Print only what you need
Traditionally people have ordered large quantities of prints because it's more cost effective. Normally your cost per unit price is reduced on larger print runs. However this can be a total false economy if:
Your message becomes watered down as you try to cram everything into a "one size fits all" publication
You end up throwing half of what you have ordered away
Small run digital printing allows you to print only what you need, minimising this wastage and increases your ability to tailor promotions to the right people.
Get smart – the combination of low volume digital and variable data printing gives you the ultimate flexibility with your print run.
Print still has a place in your marketing tool shed – maybe it's time you dusted it off and sharpened it up to see what you can do with it?